L'article a bien été placé dans le panier
116,95 € *
139,95 € *
(16,43% économisé)
Tous les prix sont incl. TVA et excl. Des frais de port. - Selon le pays de livraison, la TVA peut varier lors du passage à la caisse.
Immédiatement disponible à l'expédition, Délai de livraison** env. 1 à 3 jours ouvrés.
Réf. de l'article:

BCD16114

Poids en kg:

2
Boîte de 8 CD (format LP) avec livre de 48 pages, 219 pistes. Temps de jeu env. 578 mns. ...
plus
Wanda Jackson: Tears Will Be The Chaser..(8-CD Deluxe Box Set)
Boîte de 8 CD (format LP) avec livre de 48 pages, 219 pistes. Temps de jeu env. 578 mns.
Cette collection de huit CD contient tous les enregistrements de
Wanda Jackson
's Capitol de 1963 à 1973, y compris neuf succès country, The Box It Came In, Because It's You, Tears Will Be The Chaser For The Wine, Both Sides Of The Line, A Girl Don't Have Drink To Have Fun, My Big Iron Skillet, A Woman Lives For
Love
, Fancy Satin Pillows et Back Then, plus dix enregistrements inédits et plusieurs chansons qui n'apparaissaient que sur des singles. Tous les albums country et rock'n' roll de Wanda Jackson de 1963 à 1973 sont ici, y compris le Grammy nommé'Two Sides Of...', ainsi que'Blues In My
Heart
', et'Salutes the Country Music Hall of Fame'. Tous les enregistrements de Wanda en allemand, néerlandais et japonais sont ici aussi, y compris les tubes Santo Domingo et Morgen Ja Morgen Ja Morgen. L'ensemble est complété par des photos de l'album photo personnel de Wanda Jackson et une nouvelle biographie.
LES LARMES SERONT LE CHASSEUR DU VIN.
Wanda Jackson chante. C'est ce qu'elle fait. Elle a découvert très tôt qu'elle était destinée à chanter et est restée fidèle à sa vocation. Contrairement à beaucoup de ses contemporains, elle est à l'aise, mais quand elle ne peut pas sortir et chanter, elle a du mal à faire face à la banalité de la vie quotidienne. Dans les années 50, alors que d'autres femmes de son âge s'installaient dans une routine d'éducation des enfants, de cuisine et de travaux ménagers, Wanda se produisait, faisait des tournées à l'étranger et prenait l'avion pour Los Angeles ou Nashville pour des sessions. Les travaux ménagers n'ont plus d'allure maintenant. Le mari de Wanda, Wendell, plaisante en disant qu'il mangeait de la nourriture noircie des années avant qu'elle ne devienne à la mode.
La sueur et la détermination que Wanda a mises dans sa carrière au cours des années 50 et 60 se manifestent de façon parfois poignante. Elle sort sa vieille guitare Martin D-18, celle avec'Wanda Jackson' dessus. Le dos a été réparé là où sa boucle de ceinture et ses bijoux fantaisie l'ont presque transpercé. Le garde-pics a été étendu pour tenir compte de la raclée qu'il a fallu. Comme un quilt d'esclave, le vieux D-18 est presque une œuvre d'art populaire qui en dit long sur la personne qui l'a utilisé.
Notre précédent coffret de Wanda Jackson couvrait sa carrière d'enregistrement de 1954 à la fin de 1962. À sa fermeture, Wanda,
Patsy Cline
et
Kitty Wells
ont été les femmes qui ont connu le plus de succès dans le domaine de la musique country. Au moment de l'ouverture de cette série en juin 1963, Patsy Cline était morte. Le marché de la musique country était minuscule par rapport aux standards d'aujourd'hui. Les ventes d'albums ont rarement dépassé les 10 000 exemplaires ; les singles se sont bien comportés s'ils se sont vendus à 50 000 exemplaires. Aujourd'hui, les albums country les plus vendus dépassent régulièrement le million d'exemplaires et les budgets d'enregistrement commencent à un quart de million de dollars et culminent à des millions de dollars. Un artiste sort un album tous les ans ou tous les deux ans. Les albums de Wanda sont habituellement coupés en trois sessions de quatre chansons et coûtent moins de deux mille dollars pour les cueilleurs, le chœur vocal et le studio. Elle s'est engagée à faire deux albums par an.
C'était un monde très différent, mais la clé, comme aujourd'hui, c'était de sortir du marché national pour exploiter les ventes de boissons gazeuses. Patsy Cline l'a géré, tout comme
Jim Reeves
et plusieurs autres, mais l'arrivée des Beatles au début de 1964 a rendu plus difficile pour les artistes country d'être diffusés sur les stations pop, et la musique country est entrée dans l'un de ses ralentissements périodiques. Puis, à la fin des années 60,
Glen Campbell
a été le pionnier d'une toute nouvelle fusion pop-country. Les chansons country n'avaient pas beaucoup changé depuis la mort de
Hank Williams
, mais Campbell, avec
Roger Miller
,
Johnny Cash
,
Kris Kristofferson
et d'autres, a commencé à repousser les limites, et presque tout le monde a suivi. L'instrumentation s'est étoffée, les chansons sont devenues plus wordier, et les cueilleurs ont commencé à utiliser des accords que Hank n'aurait pas reconnus. Wanda, comme tous les autres artistes country, a dû accepter ces changements.
Propriétés de l'article:

Wanda Jackson: Tears Will Be The Chaser..(8-CD Deluxe Box Set)
Titre de l'album:

Tears Will Be The Chaser..(8-CD Deluxe Box Set)

Genre

Country

Code prix

HI

Edition 2

Deluxe Edition

Artikelart

Box set

EAN:

4000127161147

Poids en kg:

2
Wanda Jackson Sans les sages conseils de son ami Elvis Presley, Wanda Jackson aurait pu...
plus
"Wanda Jackson"
Wanda Jackson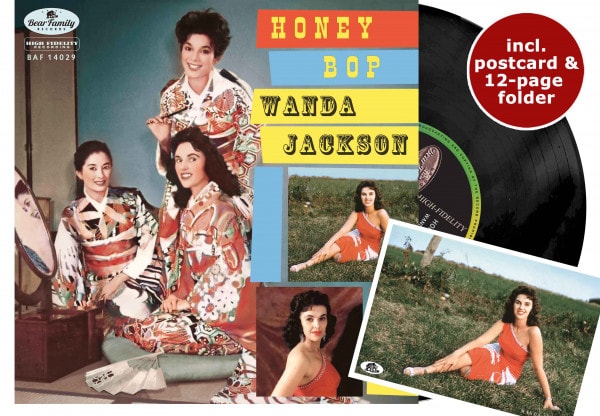 Sans les sages conseils de son ami Elvis Presley, Wanda Jackson aurait pu s'en tenir à la bonne vieille musique country. Après tout, elle avait déjà remporté un succès considérable pour Decca en 1954 avec You Can't Have My Love, un séduisant duo country traditionnel avec Billy Gray. Mais The Hillbilly Cat a compris intuitivement qu'un nouveau son se préparait dans le Sud, un son avec lequel il rendait les adolescentes folles. En 1955, Elvis part en tournée avec Wanda et sème la pagaille partout où ils jouent.
Entre deux concerts, il conseille à Wanda de le rejoindre dans le wagon du rockabilly, estimant que sa voix déchirante est faite pour ce style incendiaire. Tout comme Elvis est monté sur le trône du rockabilly comme une fusée en vol, Wanda a fini par devenir la reine de cet idiome. Contrairement à beaucoup de ses pairs, Wanda n'a pas eu à faire face à la désapprobation de ses parents - ils l'ont activement encouragée. Son père, Tom Jackson, était guitariste et violoniste, tandis que sa mère Nellie a joué un rôle tout aussi important dans sa carrière. "Le fait que je sois fille unique m'a beaucoup aidé", dit Wanda. "Ils ont pu concentrer toute leur attention et leurs efforts sur moi. Ma carrière a vraiment été une affaire de famille. Ma mère fabriquait mes vêtements. Je les dessinais, elle les faisait. C'était une couturière professionnelle, donc elle a fait presque tout ce que je portais, sur scène et en dehors. Elle m'allait comme un gant.

Et puis mon père a abandonné son travail pour pouvoir voyager avec moi, s'occuper de moi sur la route. Mes parents ont donc sacrifié leur temps ensemble, toute vie sociale qu'ils auraient pu avoir. Ils ont simplement investi toute leur énergie en moi." Née le 20 octobre 1937 à Maud, dans l'Oklahoma, Wanda a cinq ans lorsqu'elle déménage avec ses parents en Californie, s'installant d'abord à Los Angeles, puis dans les environs de Bakersfield. Tom a mis une guitare dans les mains de sa fille alors qu'elle n'avait que six ans. Le swing occidental est à la mode sur la côte ouest, et les Jacksons s'en imprègnent avec plaisir. "Ils adoraient danser. Ils étaient de très bons danseurs", dit Wanda. "A cette époque, les gens n'avaient pas de baby-sitters. Si un couple faisait quelque chose, alors les enfants étaient inclus. Et dans ces salles de danse en Californie, je me souviens que la zone de danse était à un endroit, et puis ils avaient comme le jardin de la bière dans l'autre. Ma mère est une abstinente, et certains de leurs amis prenaient un verre. Mais elle restait avec moi. Ils allaient boire et revenaient. "Ils ont dit que je me tenais juste devant le kiosque à musique toute la nuit, la tête en arrière, regardant et écoutant depuis l'âge de six ans. Les gens disaient : "Qu'est-ce que tu vas faire quand tu seras grand ?". Et je répondais toujours : "Une chanteuse ! Je pensais peut-être que j'avais le choix entre être la fille ou le garçon, je ne sais pas. Les filles étaient si jolies dans leurs vêtements tape-à-l'oeil." Rose Maddox a fait une forte impression. "Elle était si fougueuse, et leur musique était si bonne. J'ai chanté certaines de ses chansons à l'époque", a déclaré Wanda. "J'aimais les filles qui chantaient.

J'aimais le groupe de Bob Wills. Presque tous les groupes de Western swing avaient au moins une chanteuse, et la plupart d'entre elles étaient des yodleurs. C'était le principe : si tu voulais faire partie d'un groupe, tu devais jodler. J'ai donc appris très tôt à jodler." Les Jacksons retournent dans le Sooner State lorsque Wanda a neuf ans, et s'installent cette fois à Oklahoma City. Une audition impromptue à la radio KLPR a permis à Wanda de créer sa propre émission de radio à l'âge de 14 ans. "Juste 15 minutes, juste moi et ma guitare", dit-elle. "Tous les jours, après l'école, je montais à la station et je faisais mon émission. Puis mes parents venaient me chercher et rentraient à la maison. Puis je faisais mes devoirs." Un jour, la star de la musique country d'Oklahoma City, Hank Thompson, l'a appelée à la station. "Il a entendu mon émission à la radio et il a dit qu'il était impressionné par mon style et mon chant", dit-elle. "J'ai failli m'évanouir sur le champ. Il a dit : "C'est Hank Thompson". Et il m'a invitée à chanter avec lui et les Brazos Valley Boys au Trianon ce samedi soir-là.

Je devais avoir 14 ans. Je me souviens avoir dit : "Oh, j'adorerais, M. Thompson, mais il faut que je demande à ma mère !". Mais ils m'ont emmené, et ce fut le début d'une grande amitié et d'une relation avec Hank Thompson. Il est devenu mon mentor et m'a aidé à obtenir mon premier et mon deuxième contrat d'enregistrement." Très vite, Wanda est devenue un membre régulier de la troupe de Hank. Mais même son imprimatur n'a pas réussi à convaincre Ken Nelson, le responsable des ventes et du marketing de Capitol Records, de la faire signer par le label pour lequel Thompson avait enregistré tant de succès - Nelson la trouvait trop jeune. Hank l'a donc amenée chez Decca Records, où le producteur Paul Cohen était plus réceptif. À la fin de la toute première date de Wanda chez Decca en mars 54 à Hollywood, Thompson la cajole pour qu'elle coupe You Can't Have My Love en duo avec son chef d'orchestre Gray. "J'étais très contrariée. Je savais dans mon esprit que je ne voulais pas être liée à un gars. Je ne voulais pas d'une équipe", a déclaré Wanda. "Je ne voulais même pas l'enregistrer, mais ils m'ont un peu forcé à le faire. J'étais presque en larmes quand je la chantais, j'étais tellement en colère."
La chanson devient un succès national, ce qui atténue la piqûre. Jackson se rend ensuite à Nashville en mars 1955 pour une session Decca ; pendant qu'elle est en ville, elle fait ses débuts au "Grand Ole Opry". Ce qui aurait dû être le point culminant du début de sa carrière s'est avéré être tout sauf...

Auszug/Extrait : Wanda Jackson
Pour en savoir plus : https://www.bear-family.com/jackson-wanda/?c=128600
Copyright© Bear Family Records
Lire, écr. et débatt. des analyses…
plus
Évaluations de clients pour "Tears Will Be The Chaser..(8-CD Deluxe Box Set)"
De :
Kristian Kober
Sur :
3 oct. 2017
Bear-Family-üblich exzellent-!
Was Wanda Jackson nach "Party" nicht noch alles gesungen hat - sehr schön, diese Box; ich werde brauchen, bis ich das alles richtig durch habe. Einfach grossartig wieder...
De :
Theo
Sur :
22 août 2017
Écrire une évaluation
Les évaluations sont publiées après vérification.
Voir d'autres produits de Wanda Jackson
Wanda Jackson: Honey Bop (LP, 10inch, 45rpm)
Art-Nr.: BAF14029


Immédiatement disponible à l'expédition, Délai de livraison** env. 1 à 3 jours ouvrés.
Wanda Jackson: Wanda Jackson - Wanda Rocks (CD)
Art-Nr.: BCD16631


Immédiatement disponible à l'expédition, Délai de livraison** env. 1 à 3 jours ouvrés.
Wanda Jackson: Santo Domingo - Ihre deutschen Aufnahmen (CD)
Art-Nr.: BCD15582


Immédiatement disponible à l'expédition, Délai de livraison** env. 1 à 3 jours ouvrés.
Wanda Jackson: The Ballads of Wanda Jackson (CD)
Art-Nr.: BCD16848


Immédiatement disponible à l'expédition, Délai de livraison** env. 1 à 3 jours ouvrés.
Wanda Jackson: Right Or Wrong (1954-62) (4-CD Deluxe Box Set)
Art-Nr.: BCD15629


Article doit être commandé