L'article a bien été placé dans le panier
74,04 € *
77,93 € *
(4,99% économisé)
Tous les prix sont incl. TVA et excl. Des frais de port.
Immédiatement disponible à l'expédition, Délai de livraison** env. 1 à 3 jours ouvrés.
Réf. de l'article:

BCD16422

Poids en kg:

1.1
Boîte de 4 CD (format LP) avec livre de 35 pages, 104 titres. Durée de jeu : environ 283 minutes....
plus
Carl Perkins: Back On Top (4-CD Deluxe Box Set)
Boîte de 4 CD (format LP) avec livre de 35 pages, 104 titres. Durée de jeu : environ 283 minutes.


Peu après son retour sur le label Columbia en 1968, Carl Perkins sort l'un des meilleurs enregistrements de sa carrière, Restless. Alors qu'il était encore une star du Johnny Cash Show avec lequel il a fait de nombreuses tournées, Carl Perkins est maintenant de retour dans les charts et son baromètre de carrière pointe à nouveau vers le haut.

Les 4 CD de cette boîte contiennent tous les enregistrements du deuxième contrat de Carl Perkin avec Columbia (1968 à 1972) et de son temps avec Mercury (1973 à 1975). Vingt enregistrements y sont publiés pour la première fois.

Également inclus :
tous ses enregistrements avec NRBQ et la session complète'My Kind Of Country', qui est généralement considérée comme son meilleur LP.
son hommage très acclamé à Elvis, The E.P. Express et son tube pour Johnny Cash, Daddy Sang Bass.
un CD complet avec des enregistrements de démo, y compris certains de ce que l'on peut appeler les meilleurs enregistrements de Carl Perkins ! Musique des années 60 et 70, démos originales de So Wrong (un tube pour Patsy Cline) et A Man On His Own (un tube pour George Strait). Tous inédits !
un livre de 36 pages avec une biographie de Colin Escott et une discographie complète. De nombreuses photos inédites complètent l'ensemble.
CD BOX
Video von Carl Perkins - Back On Top (4-CD Deluxe Box Set)
Propriétés de l'article:

Carl Perkins: Back On Top (4-CD Deluxe Box Set)
Titre de l'album:

Back On Top (4-CD Deluxe Box Set)

Genre

Rock'n'Roll

Année de publication

2000

Code prix

DI

Deluxe Edition

Artikelart

Box set

EAN:

4000127164223

Poids en kg:

1.1
Carl Perkins Lorsque Carl Perkins est entré au 706 Union Avenue à l'automne 1954, il était...
plus
"Carl Perkins"
Carl Perkins
Lorsque Carl Perkins est entré au 706 Union Avenue à l'automne 1954, il était aussi rustique qu'une botte de foin. Carl écoutait la musique d'Elvis Presley à la radio depuis environ un mois et il savait que le jeune label Sun de Sam Phillips était la source de ces sons.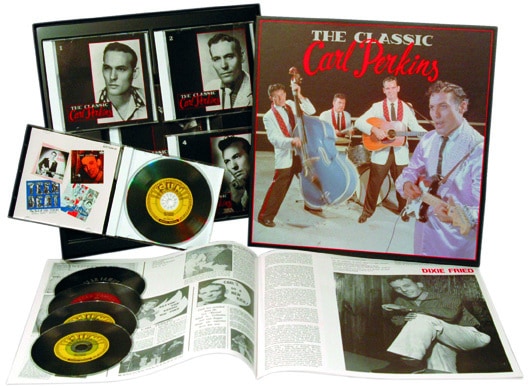 Carl pensait que lui et ses frères faisaient le même genre de musique hillbilly bop dans les bars de Jackson, au Tennessee, depuis près d'un an maintenant. Si Presley pouvait enregistrer et devenir célèbre, pourquoi pas lui ? Carl avait raison sur une chose. Les racines de la révolution rockabilly qui n'a commencé que récemment étaient en train de couler sous la surface dans le jeu de guitare et l'écriture de chansons de Carl. Mais il avait tort s'il pensait que son allure de garçon de campagne angulaire et longiligne pouvait amener les adolescentes de toute l'Amérique à s'évanouir. Presley était beau et sexy et vaguement dangereux. Carl était un homme marié avec un pâté chauve et le début d'un grave problème d'alcool. Ce dernier était réparable, mais les deux premiers ne l'étaient pas.
Le propriétaire de Sun Records, Sam Phillips, se souvient exactement de ce qu'il pensait la première fois qu'il a rencontré Carl Perkins. "Je l'ai regardé et je me suis dit : "Il y a l'une des plus belles mains du monde." Phillips le pensait, du moins en partie, comme un compliment. Ce qu'il a vu, c'est une étendue d'âme paysanne d'un kilomètre de large. Il espérait qu'un jour il pourrait faire sortir cette âme de Carl dans le studio. Cela a pris un certain temps, mais il ne devait pas être déçu.
Pour sa part, Carl était fier du fait qu'il se déplaçait indépendamment dans la même direction que Presley. En fait, Blue Moon Of Kentucky faisait partie du répertoire de Carl dans les Jackson honkytonks bien avant la sortie de Sun 209. Si rien d'autre, cela signifiait que Sam n'aurait pas à inventer.
rock'n' roll une deuxième fois avec Carl Perkins. L'homme était bien parti pour une révolution musicale privée.
Contre son meilleur jugement, Sam a invité Carl et ses frères Clayton et Jay, ainsi que le batteur W. S. Holland, dans son minuscule studio pour une audition. Il s'est souvenu plus tard en pensant qu'il craignait de briser le cœur de ce grand garçon de la campagne en le rejetant sans l'entendre. Carl a fait preuve de nervosité pendant que Holland déballait sa batterie. Phillips a fait ce qu'il a pu pour garder le chanteur calme, bien que l'expérience ait prouvé qu'une certaine tension pouvait être un atout en studio.
Carl a commencé par parcourir le répertoire du groupe qui, comme on pouvait s'y attendre, comprenait à peu près tout ce qui figurait dans les Country charts. On s'attendait à ce que les groupes des honkytonks locaux soient des jukeboxes humains. Le public connaissait les morceaux et c'était une nouveauté de les entendre en direct plutôt que de hurler dans la fumée et le bruit d'un juke-box. La plupart du temps, c'est Carl qui s'occupait des tâches vocales, bien que son frère aîné Jay prenait parfois le micro. C'était le travail du groupe de jouer ce que les buveurs locaux voulaient entendre en 1953 et au début de 1954 - ce qui était à peu près n'importe quoi de Lefty Frizzell, Hank Williams, Ernest Tubb et Webb Pierce.
Alors que Carl parcourait sa liste de chansons, Sam Phillips, l'un des premiers producteurs de disques au monde, l'encourageait à continuer. Il savait ce qu'il voulait entendre et ce n'était pas une reprise d'un tube de Nashville. Il ne pouvait pas dire à Carl ce qu'il avait en tête, mais il savait que ce n'était pas ça. Compte tenu du budget du Memphis Recording Service, Phillips n'allait certainement pas gaspiller des cassettes précieuses sur Lovesick Blues ou Always Late. La seule chose que Sam Phillips a entendue qui l'a intrigué ce premier jour était une chanson intitulée Turn Around. Phillips aimait deux choses à ce sujet. C'était une vitrine pour la voix émouvante de Carl et, plus important encore, c'était un original. Parce que Carl l'avait écrit, Phillips pouvait le publier. Cela signifiait qu'il fallait conserver quelques centimes supplémentaires sur la vente de chaque disque. Les compositions originales n'étaient pas seulement un moyen d'éviter de payer de l'argent, mais aussi un investissement dans l'avenir. Si l'une de ces chansons devenait un succès, Phillips (et Carl) gagnerait de l'argent sur les ondes. Et, mieux encore, peut-être que quelqu'un d'autre devrait payer Sam pour le droit de faire son propre enregistrement de la chanson de Carl.
L'audition s'est assez bien passée pour que Sam Phillips invite le groupe à revenir,
un geste qui signifiait le monde pour Carl, et qui a déclenché son enthousiasme. "Continuez d'écrire", a-t-il dit à Carl. "Ça ne sert à rien d'enregistrer la musique des autres. Écoutons ce que vous pouvez faire. Apportez-moi d'autres chansons que vous avez écrites." Il n'a pas fallu beaucoup d'encouragement pour engager l'auteur-compositeur dans Carl. Les Honkytonks ne l'incitaient pas vraiment à créer sa propre musique. Les danseurs et les fêtards voulaient simplement entendre ce qu'ils savaient. Ils ont toléré plutôt qu'encouragé l'originalité de Carl. Carl était confronté à un producteur de disques célèbre - l'homme qui avait découvert Elvis Presley - lui demandant d'écrire sa propre musique pour qu'elle apparaisse sur l'un de ces disques jaunes Sun...
Lire, écr. et débatt. des analyses…
plus
Évaluations de clients pour "Back On Top (4-CD Deluxe Box Set)"
De :
Joe Conneely
Sur :
12 oct. 2019
Excellent box set of Carl's hard to find later Columbia recordings
Usual excellent Bear Family production - especially audio quality - of Carl Perkins latter period recordings. The set including accompanying booklet complements brilliantly the earlier Perkins Sun Classic 5 CD box set & Dollie Masters CD
De :
Matthew Sweney
Sur :
2 janv. 2019
Outstanding
Absolutely indispensable for Perkins fans.

This deluxe boxed set represents Carl's 1968-1975 studio output PLUS demo recordings (!), digitally remastered from the original tapes. Accompanying the CDs is a handsome, very informative 32-page LP-sized booklet by Colin Escott about the recordings, featuring a complete discography and full-color promotional photography of Carl Perkins from the period.

Don't wait too long to buy it - you'll never forgive yourself once it's sold out.
Écrire une évaluation
Les évaluations sont publiées après vérification.
Voir d'autres produits de Carl Perkins